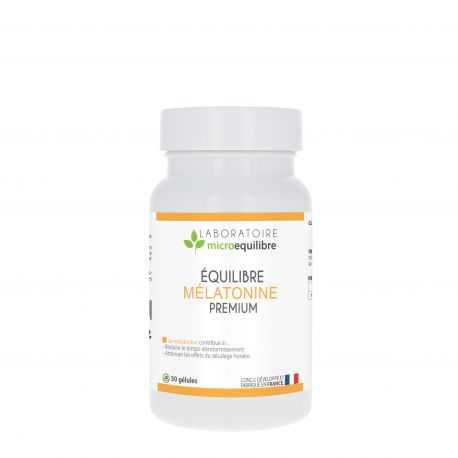 ÉQUILIBRE MÉLATONINE
Food supplement recommended for sleep disorders (difficulty falling asleep, waking up at night) or jet lag.
In stock
Warning: Last items in stock!
Availability date:
-
Buy today and receive
Monday 15/08/2022
Description

What is ÉQUILIBRE MÉLATONINE?


ÉQUILIBRE MÉLATONINE is composed exclusively of melatonin, a hormone essential for sleep that promotes falling asleep. It also helps to alleviate the effects of jet lag.

Instructions of use

It is advisable to take 1 capsule a day, accompanied by a large glass of water at bedtime, punctually or as a 1-month course of treatment.

Remember to avoid screens in the evening, which delay the natural secretion of melatonin.

Precautions of use

- Respect the daily doses indicated.

- To be consumed with a varied and balanced diet associated with a healthy lifestyle.

- Keep out of reach of young children.

- Not recommended for children and teenagers, pregnant or breastfeeding women.

- Not recommended for people suffering from inflammatory or autoimmune diseases, and those on antidepressants.

- Not recommended for people who have to carry out an activity requiring sustained vigilance and which may pose a safety problem in case of drowsiness.

- Epileptics and asthmatics should seek medical advice.

Composition

Nutritional Value :

| | |
| --- | --- |
| Ingredients | Daily intake for 1 capsule |
| | 1.8 mg |

* Nutritients Reference Values

Ingredients


Anticaking agent: Maltodextrin - Pullulan - Melatonin vegetarian capsule shell.

This list of ingredients is subject to change, please consult the packaging of the purchased product.

More information

The pineal gland secretes melatonin, one of the components of sleep induction, which is synthesised during the night; it signals the brain that the sleep phase can begin. Its production increases until the middle of the night and then gradually decreases, preparing the brain for waking up.

Sleep :
The beneficial effect is obtained by consuming 1 mg of melatonin before bedtime.

Travelling :
The beneficial effect is obtained by consuming at least 0.5 mg of melatonin just before bedtime on the first day of travel and for a few days after arrival at the destination.