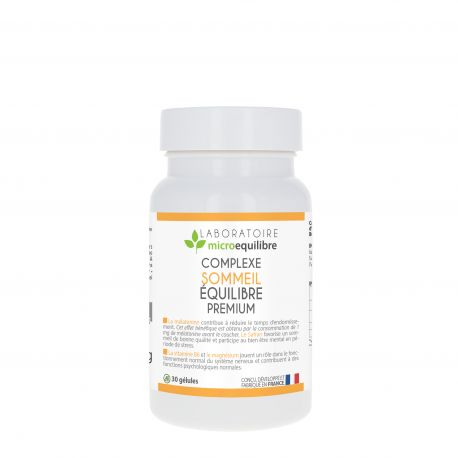 SOMMEIL ÉQUILIBRE
Food supplement indicated to help you relax and fall asleep, and when travelling to another country with a different time zone.
In stock
Warning: Last items in stock!
Availability date: 10/30/2019
-
Buy today and receive
Monday 15/08/2022
Description

What's SOMMEIL ÉQUILIBRE ?


SOMMEIL ÉQUILIBRE is made up of melatonin, the sleep hormone that helps to reduce the time it takes to fall asleep and helps to reduce the effects of jet lag. Saffron extract promotes relaxation and magnesium bisglycinate combined with vitamin B6 contributes to the proper functioning of the nervous system.

Instructions of use

It is advisable to take 1 capsule a day, to be swallowed 15 minutes before bedtime to have the desired effect.

Punctually over a 1 month course of treatment.

Precautions of use

- Do not exceed the recommended daily dose.

- Store in a cool, dry place, away from light and heat.

- Dietary supplement, not a substitute for a varied and balanced diet.

- To be taken as part of a healthy lifestyle.

- Keep out of the reach of young children.

- Not recommended for children and teenagers and pregnant or breastfeeding women.

- Not recommended for people suffering from inflammatory or auto-immune diseases, people taking anti-depressants, and people who need to carry out an activity requiring sustained vigilance. Taking the dietary supplement may pose a safety problem in case of drowsiness.

- For epileptics and asthmatics, seek medical advice.

Composition

Nutritional value:

| | | |
| --- | --- | --- |
| Ingredients | Daily intake for 2 tablets | % NRV* |
| Vitamin B6 | 1,4 mg | 100 % |
| Magnesium | 150 mg | 40 % |
| Dry saffron extract | 5 mg | |
| Melatonin | 1 mg | |

* Nutritients Reference Values

Ingredients :

Compression agent : dextrose - marine magnesium oxide - thickeners : microcrystalline cellulose, croscarmellose sodium- anti-caking agent : magnesium stearate - natural orange flavor - dry extract of saffron stigmas (crocus sativus) - vitamin B6 (pyridoxine hydrochloride) - melatonin.

This list of ingredients is subject to change, please consult the packaging of the purchased product.

More information

In order to achieve a peaceful and restful sleep, it is useful to follow some common sense rules:

■ Light, alcohol-free meal in the evening, avoid taking stimulants after 5pm.

■ Go to bed when you feel the first signs of sleep.

■ Avoid sports and screens 2 hours before bedtime.

■ Recognise your personal sleep rhythm and respect it.