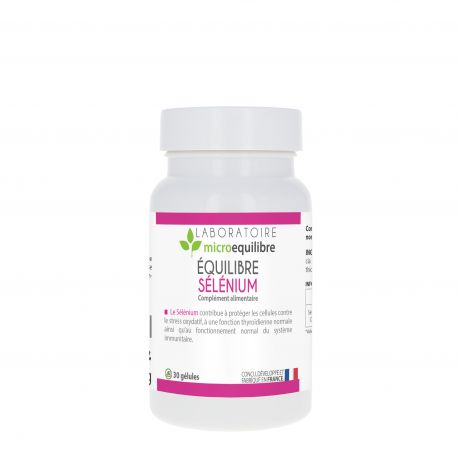 ÉQUILIBRE SELENIUM - pullulan capsules
Food supplement that helps protect cells from oxidative stress, normal thyroid function and normal immune system function.
Suitable for vegetarians.
In stock
Warning: Last items in stock!
Availability date:
-
Buy today and receive
Monday 15/08/2022
Description

What is ÉQUILIBRE SELENIUM?


ÉQUILIBRE SELENIUM stimulates the immune system and has an anti-inflammatory action.

Instructions of use

It is advisable to take 1 capsule a day with a large glass of water.

As a 3-month course of treatment, to be repeated.

What is the pullulan capsule?


Entirely natural, pullulan is a polysaccharide (a polymer from the carbohydrate family) which is obtained by fermenting tapioca or maize starch using a strain of mushroom (Aureobasidium pullulans). In addition to its 100% vegetable composition, its manufacture requires no chemical additives.

Precautions of use

- Do not exceed the recommended daily dose.

- Store in a cool, dry place, away from light and heat.

- Dietary supplement, not a substitute for a varied and balanced diet.

- To be taken as part of a healthy lifestyle.

- Keep out of the reach of young children.

Composition

Nutritional Value :

Ingrédients

1 capsule
%VNR*

Sélénométhionine

including Sélénium

30 mg

150 µg

272,2 %


* Nutrients Reference Values

Ingredients

Bulking agent: organic acacia fibre, sheath: pullulan capsule, Selenomethionine.

This list of ingredients is subject to change, please consult the packaging of the purchased product.

More information

The main biological functions of selenium


Selenium is a trace element that is used in the composition of certain proteins. These 'selenoproteins' are involved in the metabolism of thyroid hormones and in the defence against oxidative stress...

Selenium* thus contributes :

normal spermatogenesis (sperm production),
to the maintenance of normal hair and nails,
the normal functioning of the immune system and thyroid,
and the protection of the cells against oxidative stress(*).
*Results of the scientific evaluations carried out for health claims by the European Food Safety Authority (European Commission, 2016). Health claim: any claim which states, suggests or implies that a relationship exists between a category of food, a food or one of its constituents and health.