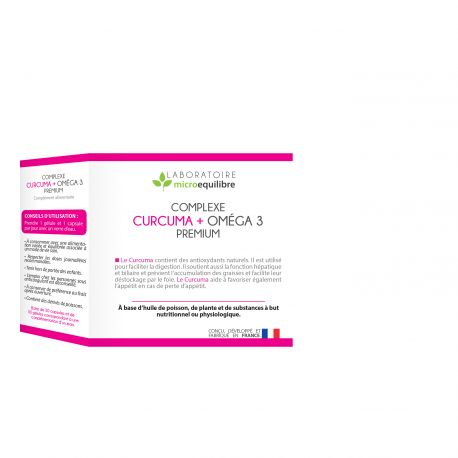 CURCUMA + OMEGA 3
Food supplement indicated to optimise the protection of cells against oxidative stress and the proper functioning of the immune system.
In stock
Warning: Last items in stock!
Availability date:
-
Buy today and receive
Monday 13/02/2023
Description

What is CURCUMA + OMEGA 3?


Turmeric + Omega 3 is a combination of turmeric extract, N-acetylcysteine, a strain of Lactobacillus reuteri and two omega 3 fatty acids: docosahexaenoic acid (DHA) and eicosapentaenoic acid (EPA). The latter play a significant role in the proper functioning of the heart, and this beneficial effect is obtained by daily consumption of 250 mg of EPA and 250 mg of DHA. Finally, turmeric is traditionally used to participate in the effectiveness of the immune system.

Instructions of use

It is advisable to take 1 capsule and 2 capsules at the same time per day, in the evening with a large glass of water.

As a 2-month course of treatment.

Precautions of use

- Do not exceed the recommended daily dose.

- Store in a cool, dry place, away from light and heat.

- Not a substitute for a varied and balanced diet.

- To be taken as part of a healthy lifestyle.

- Keep out of reach of young children.

- Do not give to children under 12 years of age.

- Not recommended for people on anticoagulant medication.

- Avoid consuming other curcumin source foods during the CURCUMA + OMEGA 3 cure.

- Inform your doctor or pharmacist if you are taking medicines at the same time.

Composition

Nutritional value :

Daily intake of 1 or 2 tablets

N-Acetyl-Cysteine

150 mg

Fish oil

including omega 3

EPA

DHA

500 mg

260 mg

150 mg

110 mg

Turmeric extract (Curcuma longa L.)

including curcumins

700 mg

560 mg

EPA = Eicosapentaenoic acid

DHA = Docosahexaenoic acid

Ingredients of the capsule :

Dry extract of turmeric rhizome (Curcuma longa), N-Acetyl-L-Cysteine, bulking agent: microcrystalline cellulose, Lactobacillus reuteri, anti-caking agent: magnesium stearate. Pullulan vegetarian capsule.

Ingredients of the capsule :

EPAX® fish oil titrated in EPA and DHA - capsule shell: fish gelatine, humectant: glycerol, water - antioxidants: rosemary extract, extract rich in tocopherols. Contains fish.

This list of ingredients is subject to change, please consult the packaging of the purchased product.

More information

Suggested association: Harpagosam

Turmeric has been traditionally used in traditional medicine in India for more than 3000 years. Curcuminoids are fat-soluble, which is why the formula has been combined with fish oil.