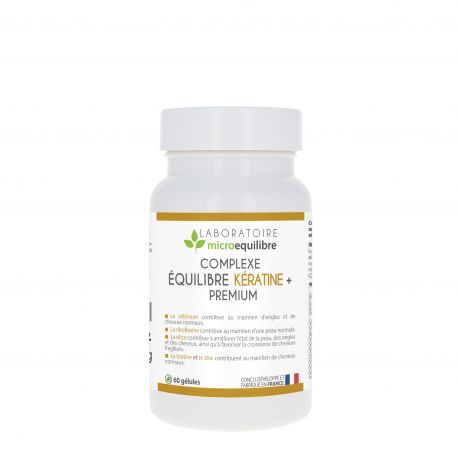 ÉQUILIBRE KERATINE+
Food supplement that contributes to the normal maintenance of nails and hair.
In stock
Warning: Last items in stock!
Availability date:
-
Buy today and receive
Monday 15/08/2022
Description

What is ÉQUILIBRE KERATINE+?


ÉQUILIBRE KERATINE+ provides keratin (500 mg / 2 capsules) combined with selenium, riboflavin, silica as well as biotin and zinc.

* Selenium contributes to the maintenance of normal nails and hair.

* Riboflavin contributes to the maintenance of normal skin.

* Silica helps to improve the condition of the skin, nails and hair, as well as to promote the growth of weakened hair.

* Biotin (Vitamin B8) and zinc contribute to the maintenance of normal hair.

Instructions of use

It is advisable to take 2 capsule a day with a large glass of water.

As a 3-month course of treatment, to be repeated.

What is the pullulan capsule?


Entirely natural, pullulan is a polysaccharide (a polymer from the carbohydrate family) which is obtained by fermenting tapioca or maize starch using a strain of mushroom (Aureobasidium pullulans). In addition to its 100% vegetable composition, its manufacture requires no chemical additives.

Precautions of use

- Do not exceed the recommended daily dose.

- Store in a cool, dry place, away from light and heat.

- Dietary supplement, not a substitute for a varied and balanced diet.

- To be taken as part of a healthy lifestyle.

- Keep out of the reach of young children.

Composition

Nutritional Value :

Ingrédients

Pour 2 capsules
%VNR*

Keratin

500 mg

L-Cystine
100 mg

bisglycinate Zinc

including Zinc

50 mg

15 mg

150%

Horsetail aerial part extract

including silica

50 mg

5 mg

Vitamin E
16 mg
133%
Vitamin B3
16 mg
100%

Sélénométhionine

including sélénium

10 mg

50 µg

91%

Vitamin B5
6 mg
100%
VitamineB6
2.1 mg
150%
Vitamin B2
1.4 mg
100%
Vitamin B1
1.1 mg
100%
Vitamin B9
200 µg
100%
Vitamin B8
150 µg
300%
Vitamin B12
2.5 µg
100%

* Nutritional Reference Values

Ingredients: Keratin, Envelope: Pullulan capsule, L-Cystine, Zinc bisglycinate, Horsetail aerial part extract, Vit. E natural, Anti-binding agent: Magnesium carbonate, Vit. B3, Selenomethionine, Vit. B5, Vit. B6, Vit. B2, Vit. B1, Vit. B9, Vit. B8, Vit. B12.

This list of ingredients is subject to change, please consult the packaging of the product purchased.

More information

A dietary supplement especially indicated to improve the health of hair, nails and skin.

Association of vitamins, keratin, minerals and Oligo element in bisglycinate form and anti-oxidants, to improve the quality of hair, nails and skin.

Good dosage of Keratin which brings a good supply of cysteine.

A very global formulation ensuring both the good mineralisation of hair fibres and nails, and allowing a better resistance and rigidity of the hair.

Improves the skin's radiance thanks to the numerous vitamins.