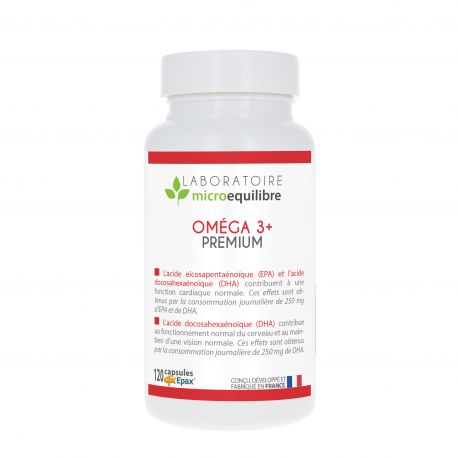 OMEGA 3 +
Food supplement indicated for an optimal action on heart function, ocular vision and brain function.
In stock
Warning: Last items in stock!
Availability date:
-
Buy today and receive
Wednesday 05/04/2023
Description

What's OMEGA 3 +?

OMEGA 3 + is composed of two fatty acids from the Omega 3 family (Epax®) which are docosahexaenoic acid (DHA) and eicosapentaenoic acid (EPA). Their effects on health are well documented today. Particularly well dosed in DHA and EPA, our dietary supplement provides you with the right amount for optimal action on heart function, brain function and eye sight.

Instructions of use

It is advisable to take 4 capsules per day, in the middle or at the end of a meal containing fat to promote the absorption of fat-soluble vitamins (A and D) and omega 3 fatty acids.

As a 3-month course of treatment to be repeated.

Precautions of use

• A food supplement, cannot replace a balanced and varied diet.

• To be taken as part of a healthy lifestyle.

• Do not exceed the recommended daily dose.

• Keep out of the reach of children.

• Store in a cool, dry place away from light and humidity.

Composition

Nutritional value :

Daily intake for 4 capsules

Fish oils

of which: omega 3

2000 mg

1220 mg

Eicosapentaenoïc acid

EPA

600 mg

Docosahexaenoic acid

DHA

440 mg

Ingredients:


EPAX® fish oil titrated in EPA and DHA - capsule shell: fish gelatine, humectant: glycerol, water - antioxidants: rosemary extract, extract rich in tocopherols. Contains fish.

This list of ingredients is subject to change, please consult the packaging of the purchased product.

Why Epax?

Epax establishes the standards for safe, traceable and durable omega-3 ingredients.

EPAX is the reference in fish oils. EPAX quality ensures its fish are caught in oceans removed from all industry and as such guarantees quality and optimal purity. 170 years of Norwegian maritime expertise and its continued commitment to purity, quality and innovation guarantee products that meet the highest standards in the industry for safe, traceable and durable ingredients.

Purity

:

Epax is committed to producing ultra-pure omega-3 ingredients that are safe for continuous human use.

EPAX production limits for environmental pollutants are 60% to 95% lower than the established standard values.

Licensed treatment and purification methods.

Effective purification methods for obtaining oils that ensure the compliance or exceedance of global purity standards such as the GOED voluntary monograph, the European Pharmacopoeia and abidance with Proposition 65.

Analytical results of total ventilation for the 209 PCB cogeners provided to all customers.

The PCB 209 EPAX limit is well below the established standards. It is 90% lower than the established by the GOED voluntary monograph and EPAX beats its own maximum limit with 83%. The lower value is the average of all EPAX measurements in 2012.

Production specifications that determine the industry's lowest limits for trans-unsaturated fatty acids and unhealthy oxidant by-products.

Quality - Continuous apply of traceble and high quality problem-free ingredients from a sustainabe source.

EcoVision

THe FMC Epax EcoVision environmental stewardship program determines primary values and long-term ethical standards for traceable, sustainable and accountable practices.

More information

Omega 3 represents a category of essential fatty acids that our body cannot produce and that it must necessarily draw from its diet. They have been the subject of numerous scientific and medical studies which have demonstrated their particular nutritional interest. Nearly 35,000 studies have been published on their subject. Other studies have looked at their scope in terms of medical and economic issues: Synadiet (National Union of Food Supplements) reported, through a study
(Frost and Sullivan Institute, in 2019) that supplementation with omega 3 of 1.2g per day (including 250-300 of DHA and EPA) would have prevented 13700 cases of dementia.
Blog