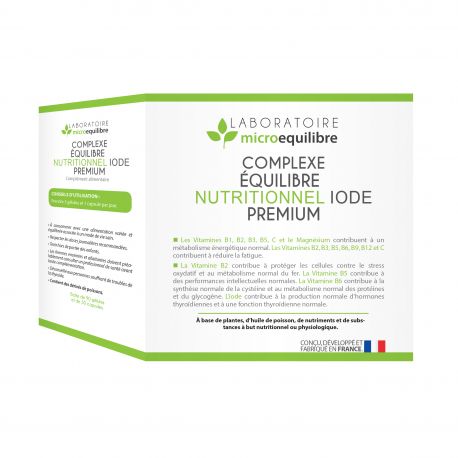 ÉQUILIBRE NUTRITIONNEL IODE
Food supplement particularly indicated to significantly reduce tiredness and to regain tonus and more energy on a daily basis.
In stock
Warning: Last items in stock!
Availability date:
-
Buy today and receive
Monday 13/02/2023
Description

What's ÉQUILIBRE NUTRITIONNEL IODE?

ÉQUILIBRE NUTRITIONNEL IODE is a concentrate of 12 vitamins, 4 minerals and omega 3 (Epax ®). Vitamins B, C and magnesium bisglycinate (in this form, magnesium has the best possible bioavailability, i.e. it is very well assimilated by the body) are "key" nutrients in the production of energy. Iodine contributes to the optimal synthesis of thyroid hormones and the proper functioning of the thyroid gland. Zinc and vitamins B2, B3 and B8 play a role in maintaining healthy skin. Vitamin B8 helps to maintain healthy hair.

Instructions of use

It is advisable to take 1 capsule and 2 tablets a day, to be swallowed with a glass of water before a meal containing fat, to promote the absorption of fat-soluble vitamins (A and D) as well as omega 3 fatty acids.

As a 2-month course of treatment, to be repeated twice a year.

Precautions of use

• Do not exceed the recommended daily dose.

• Keep out of the reach of young children.

• A food supplement, does not replace a balanced and varied diet.

• To be taken as part of a healthy lifestyle.

• Store in a cool, dry place away from light and heat.

• Should not be administered to children under 12 years of age. No recommended for pregnant or breastfeeding women.

• Inform your doctor or pharmacist if you are taking other medicine at the same time.

• Seek advice from your doctor and/ or pharmacist if you are taking hypoglycemic medication.

Composition

Nutritional Value :

Ingredients

Daily intake

%NRV

Vit A

800 µg

100 %

Vit B1

2 mg

180 %

Vit B2

2 mg

140 %

Vit B3

20 mg

125 %

Vit B5

6 mg

100 %

Vit B6

2 mg

140 %

Vit B8

160 µg

320 %

Vit B9

200 µg

100 %

Vit B12

3 µg

120 %

Vit C

130 mg

162 %

Vit D

5 µg

100 %

Chromium

25 µg

62%

Iodine

150µg

100%

Magnesium

300 mg

80 %

Selenium

50 µg

90 %

Zinc

15 mg

150 %

Alpha lipoic acid (R form)

100 mg

N-acetyl-L-Cysteine

150 mg

Fish oil

including EPA

500 mg

125 mg

DHA

110 mg

* Nutritional Reference Values

Tablet indredients :

Marine magnesium oxide - bulking agent: microcrystalline cellulose - N-Acetyl L-Cysteine - L-ascorbic acid (vitamin C) - alpha lipoic acid - anti-caking agent - magnesium stearate - selenium fortified yeast - filmcoating agents: hydroxypropyl methylcellulose - stearic acid, microcrystalline cellulose - nicotinamide (vitamin B3) - folic acid (vitamin B9) - zinc oxide - D-biotin (vitamin B8) - chromium chloride - calcium D-pantothenate (vitamin B5) - retinyl acetate (vitamin A) - cyanocobalamin (vitamin B12) - pyridoxine hydrochloride (vitamin B6) - thiamine hydrochloride (vitamin B1) - riboflavin (vitamin B2) - cholecalciferol (vitamin D3) - potassium iodide. Allergen: contains fish.

Capsule ingredients :

Microequilibre Laboratory, eager to propose the best quality products with guaranteed safety, provides customers with a fish oil rich in omega-3 and certified EPAX (see who are we?, why EPAX).

EPAX® fish oil, EPA and DHA titrated - capsule shell: fish gelatin, humectant: glycerol - emulsifier: sunflower lecithin - antioxidant: rosemary extract, tocopherol rich extract.

This list of ingredients is subject to change, please consult the packaging of the purchased product.

More information

Iron has been voluntarily excluded from the ingredients for the following reasons: Iron deficiency in developed countries mainly affects women, especially pregnant women. In all cases, iron supplements should only be taken after a diagnosis of iron deficiency anaemia and under the supervision of a health professional.